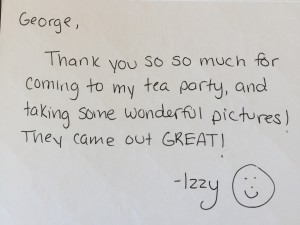 Izzy, Thank you so much for mailing me the card, i had such a great time with you guys:)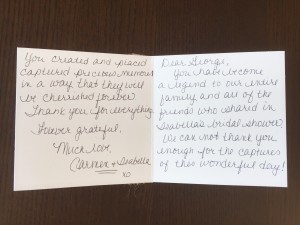 Thank you soo much guys ! Such a great surprise, i miss you:)
Thank You All for the precious moments we spent together!
I'm soooo glad when hear back from  customers and know everybody is happy  I would like to Thank you  for mailing me the cards, with all kind words written there!
My job is done – You made my day 🙂
Thank you Elizabeth, Thank you Sandy, Thank you Patti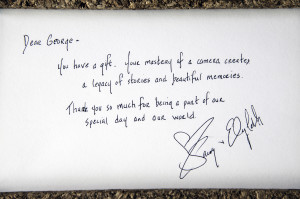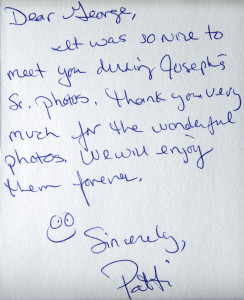 Patti, I'm really grateful for the opportunity to be chosen as a photographer for your son Joseph I had  great time with him, he is  such a good boy ,and i am sure you are very proud of him! Thank you Joseph for your cooperation i deeply hope you had  fun  during the session. (now i know already why people like you so much:) I'm  looking forward to working with you and your family in the future!
My best wishes to you and your family:)
Enjoy:)
February  2014:  Elizabeth & Sandy's "Last Day Being Engaged" – here:
 http://www.preciousmemoriesbygeorge.com/blog/elizabeth-sandy-last-day-being-engaged/
February 14th, 2014  Saint Valentine's Day   "The Wedding" – here:
http://www.preciousmemoriesbygeorge.com/blog/elizabeth-sandy-the-wedding/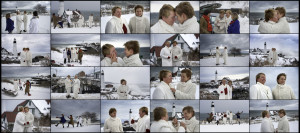 Elizabeth and Sandy, I  wanted to say a huge Thank you for choosing me as your photographer,together we captured some wonderful images and I know you will enjoy them for years to come.  It was a pleasure working with you i had such a great time ! Your tears were so real ,so true …and your smiles were so contagious….what a  special and memorable day…what a "stormy" LOVE:)
Thank you Nikki , Tina and Cindy you are amazing friends ,It wouldn't be the same without you!
George